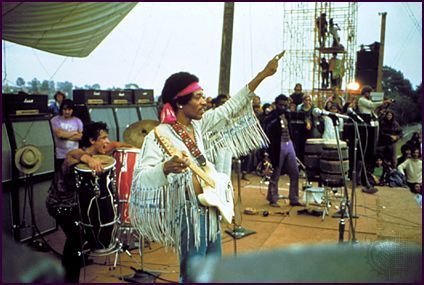 When people understand the power of love, instead of the love of power, the world will be at peace
So sayeth St Jimi of Hendrix
ahh, politics! how tiresome. Voted this morning. Lib Dem, of course, not because i beleive it'll make a difference but simply to contribute to the fucking up of parliament. y'see if the polls are to be believed then the end result is gonna be a labour majority but
not
an overall majority, meaning tony will now have to keep his back benchers happy to get motions passed at all. labour will still be the biggest party but now they'll be outnumbered by the other parties combined. How curious.
i 'eagerly' await the results of the election tonight. Lets hope for a hung parliament!
More importantly, saw the barbs again last sunday, at my beloved watering hole The Command House (second only to the tap n tin) apparently there were bands on all throught the mayday weekend, i of course was only there for the one. sitting at the front, cheering wildly in a crowd of four! (us fans!) they played new songs, which excited me greatly, though the band themselves were less enthusiastic, claiming they needed more work before they were fully finished and added to the set.
Two words summed up this gig for me, tough. crowd. despite our best efforts not too many fans turned up and while the public were not hostile, neither were they overly excited by the music, they were
polite
. role on the next one (AT THE TAP N TIN!).
todays music: Hendrix-Machine gun/QOTSA-In My Head
todays t-shirt: i gargle with bong water!
# posted by The Prisoner | 10:30 AM |