People are fragile things you should know by now, be careful what you put them through
The prisoner has a bizarre moment, and makes a bizarre aquisition
Last night, Dan and i left hospital radio early to attend a battle of the bands featuring The Delta (the singer is going out with a fellow barbs fan and the drummer lives over the road from me, hence we are now fans by default) They were great, and seem to have held up rather well despite a recent change in line up, (the bassist has taken over lead guitar and a replacement has been drafted in). Suffice to say, they won, hurrah!
While driving home, Dan and i listened to copious amounts of Pink Floyd of the more trippy variety. Having Dropped off Dan i switched over to Led Zeppelin and headed home, somehow i managed to time it so Stairway to Heaven ended at exactly the moment i stopped the car at the end of the driveway.
I turned off the engine and the lights, and was plunged into almost total darkness, as our driveway heads down the side of the house into the back garden, away from those horrid orange streetlights. The music continued however, as it was coming from my CD player in th glove box (and some speakers blu-tacced to the dashboard).
For some reason i felt absolutely no inclination to turn it off, get out of the car, or even move much. I just sat there, seat belt on, wrapped up in my huge camo jacket, quite comfortable while Led Zeppelin carried on playing. I sat and stared at the back garden, so familiar yet so strange in the dark. I stared up at the sky for quite some time as well, it was very clear last night,
very
clear. Perhaps the clearest i've ever seen it in shitty light polluted Medway, or perhaps i'm just used to looking out of my bedroom window, which faces the street. Anyway, there were so many stars, not just the bright ones you usually see, but also a lot of faint ones, barely visible. Amazing how one can be suddenly captivated by something thats there every night.
I don't know how long i stayed there before the spell was suddenly broken, i could well have gone to sleep in there. But eventually i did kill the music and head inside.
My other item of business today is to introdce you to this...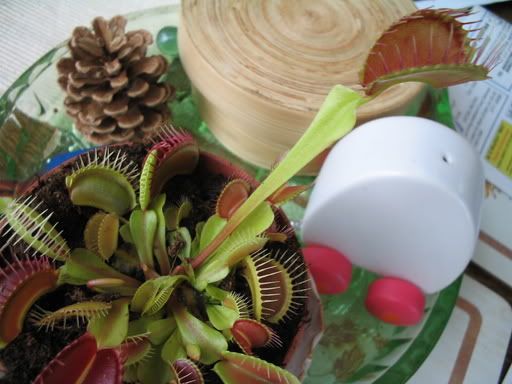 Audrey 2, my Venus Fly trap. (click for biggy)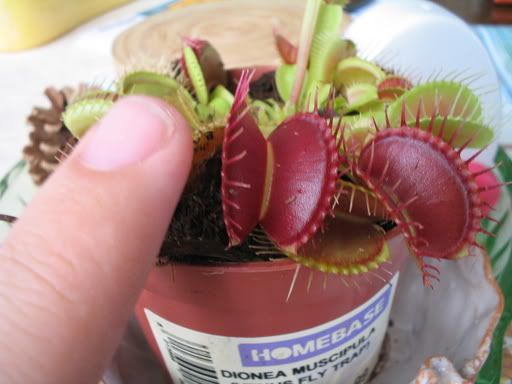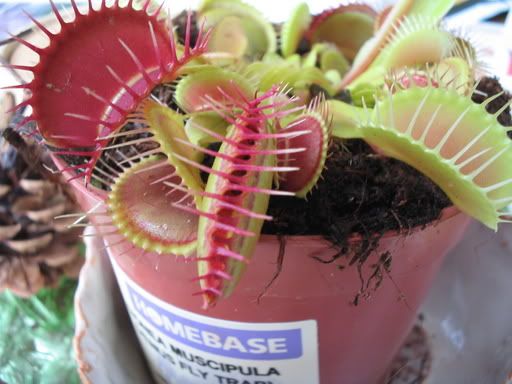 My finger, for comparative purposes. And *Munch*, a hapless bug is ensnared in Audrey's clutches.
It's smaller than i expected, but no less fascinating.
todays music: Led Zeppelin - Going to California
todays t-shirt
# posted by The Prisoner | 9:56 AM |