G.O.
The Barbs-RIP
I've changed the name of this blog because it's namesake no longer exists. Naturally im disappointed, not least because of all the unreleased or unrecorded material which will go on being so, much of which i believed to be their best work. However, the split was not a total surprise considering the complete lack of activity for a number of months, shame really.
So, Epitaph for the Barbs: A Band who got far less recognition than they deserved (except in the phillipines), but enabled a small yet eclectic group of fans to rock out and get very drunk on a number of occasions.
In fact, now that i think about it, there's an awful lot of things i have done, bands i have discovered and people i have met that are indirectly down to the Barbs,an
awful
lot, for two and a bit years i followed their career with interest and in turn, my life went in a direction it might not have necessarily gone but im damn happy it did.
The Url will remain the same for convieniences sake, but new banners and titles are the order of the day.
I Go Back to Uni in a few weeks, so an end to the perpetual bordedom at last.
and now for the weeks other items...
Scream For Me Hammersmith!
The Prisoner and The Prisoner senior get headbutted with love by Iron Maiden
i've been into maiden for years, but the buggers never tour! they settle for festivals which i can never afford to go to. The last time they toured i already had something booked on the day of the earls court gig! Gaaah!!!!
But a few days ago me and dad went to a one off benefit gig at hammersmith and it was worth every second of the wait. My Love for maiden has been rekindled somewhat by a truly amazing show, great songs and one of the best crowds i've seen at any gig ever. You know the real die hard fans you always get at the front, that was the
whole audience
. You dont feel nearly so geeky while singing every word if everyone else in the room is doing it too.
I cant even bring myself to describe whats happening in the US, i feel for the victims, but more than that, i am disgusted at the US powers that be and their handling of the situation. anyway, i dont want to talk about that.
todays t-shirt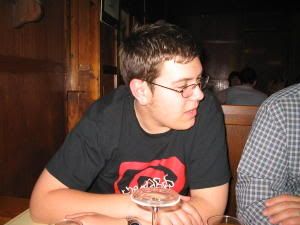 todays music: The Barbs - Massive crush, Bury You, Importance of being evil, Dangerman, Evil eye, Transylvania Time, Monday to thursday, G.O. and all the bloody rest...
# posted by The Prisoner | 6:39 PM |