Well bugger my giddy aunt!
You wait around for ages for something to happen thats worth writing about, then a load come up all at once!
firstly...
Hair 2-The sequel
the prisoner and the symbiotic being on his head...again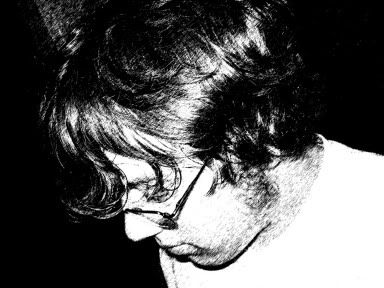 LOOK AT IT! It's so curly round the edges! I had nothing to do with that! it just sort of did it on it's own. Most baffling but it seems to have gone down well.
still dont know how long i'm going to let it get but i'm rather enjoying the results of this experiment.
Work
The prisoner goes temping, for a day.
did some work for dave again yesterday, for those of you not in the know, this means heavy manual labour all day. but the moneys good, if only they had more work for me i might be able to clear my overdraft. Anyway, yesterday i had t get the train in cos my dad was somewhere else, which meant experiencing the joys of rush hour train to victoria for the first time, remind me never to get a job in london! the tube on the other hand was all but deserted, everyone else was heading into the city, while i was on a southbound to vauxhall and the old south bank university, which is scheduled for demolition. But not before us four have removed some machine or other, god knows what it does, but it was bloody awkward to get out for several reasons.
1. It had to be removed in one piece, not dismantled.
2.It was about 10 feet taller than the building it was inside
3.it was sunk into a pit from which it had to be lifted.
4. We couldnt get a forktruck inside the building, therfore it had to be lifted on chain blocks by us four.
that was how i spent ten hours yesterday. even dave and mick (hardened veterans i suppose) said it was bloddy hard work, but it's done now. Monday will be dead easy compared to that.
Incidentally, when you see a new ikea advert in a few weeks or months, I was there! The were shooting it on the same site, they constructed a set upstairs somewhere and were doing a massive shoot over the weekend.
till next time mes amis
todays music: The Wildhearts - Nurse Maximum
todays t-shirt: Jack and Jill did it for the insurance
# posted by The Prisoner | 10:49 AM |