Lookie Lookie!
The Prisoner has made a cheap aquisition
My mum and i went to rochester to view the exhibition of works by Billy Childish (local artist, writer, poet, filmmaker and musician). on the way back we ambled into the camera shop which has brand new and also very old equipment, and lo and behold, we walked out with this...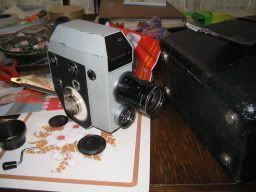 a double 8 clockwork cine camera with a fistful of filters and things, the only thing i dont have is any film stock, but after a quick browse on the net, i have discovered a source of b/w film for about £11 a hit, which isnt too bad at all when you consider how much uni spends supplying us with 16mm (i.e. Shitloads).
this is gonna be fun...
todays music:Therapy? - diane
# posted by The Prisoner | 4:31 PM |