Holy Gezorgenplatz! look at that!!!
the prisoner gets a new movie delivered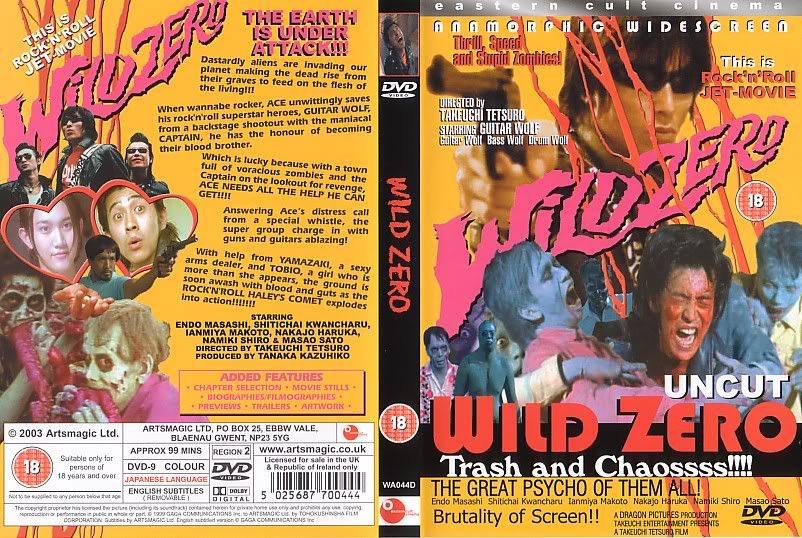 Imagine my surprise when that arrived on my door Wednesday morning. One part of my Guitar Wolf starter pack. this is the movie they made in 2000. featuring themselves as a rock band (a huge amount of acting required there) who save the world from Zombies and UFO's with the power of ROCK N ROLL!!!!
My ultimate movie basically. and just look at that cover, look at it! There's so much going on there, i'm particularly fond of the bad english subtitles.
"Thrill, Speed and Stupid Zombies"
"This is Rock n Roll Jet Movie"
"Thrash and Chaossss"
"Brutality of Screen"
etc. etc.
this movie is great fun because it is so so very dumb, i'd recommend it to anyone and everyone.
also on the same day i got two albums by the aforementioned band, i have only listened to jet generation so far, just to confirm rumours that it's the loudest album ever recorded. i think that may well be the case, the only time my ears have rung more ferociously was after my first motorhead gig, and this is a mutherfuckin' CD!
incidentally this post is also going up on my myspace blog
Linky
todays music: Jet Generation - Guitar Wolf
todays t-shirt: i smile because i have no idea whats going on
# posted by The Prisoner | 9:56 AM |